极速赛车是哪里的彩票:Concert leads off 40th anniversary celebrations of China-Portugal ties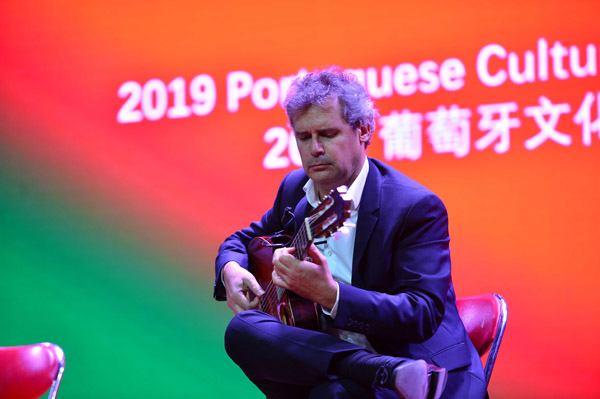 极速快乐8群 www.vunoz.cn A concert given by Chinese erhu player Duan Chao and Portuguese guitarist and composer, Pedro Joia, was held at the Palace Museum on March 4, kicking off a yearlong celebration of the 40th anniversary of the establishment of diplomatic ties between China and Portugal. About 20 cultural events, covering music, cinema, theater, literature, as well as exhibitions, will be held in Chinese cities, including Beijing, Shanghai and Guangzhou, with artists and performers from both countries involved.
During the concert, each musician had a solo performance of their own repertories. Duan, the erhu player, a soloist of China National Traditional Orchestra, played The Moon Over A Fountain by Chinese composer, Hua Yanjun, and Joia played Vivencias Imaginadas by Spanish flamenco composer, Vicente Amigo.
They also performed duets on three popular music pieces from the two countries, including You And Me, which was the theme song for the 2008 Summer Olympics - originally performed by Chinese singer Liu Huan and British soprano Sarah Brightman - Chinese ballad Jasmine Flower and Portuguese ballad, Lisbon Fado in A Minor.
"I have performed in China before but this is the first time that I played at the historic venue, which is an honor. Along with Duan, we showed the way different cultures can come together musically," says Joia.
A top Portuguese guitarist, he started playing the instrument at age 7. He adds that because both the guitar and erhu are string instruments, the two different sounds fit well and naturally complement one another.
"Though geographically there is a great distance between the two countries, we can come together and get to know each other better with this series of cultural exchange programs," says Jose Augusto Duarte, ambassador of Portugal to China, adding that in 2018, about 250,000 Chinese tourists visited Portugal and he hopes that even more will travel to discover the country's offerings after enjoying the program of events.